26th Annual SMUD Trout Derby - April 6th and 7th!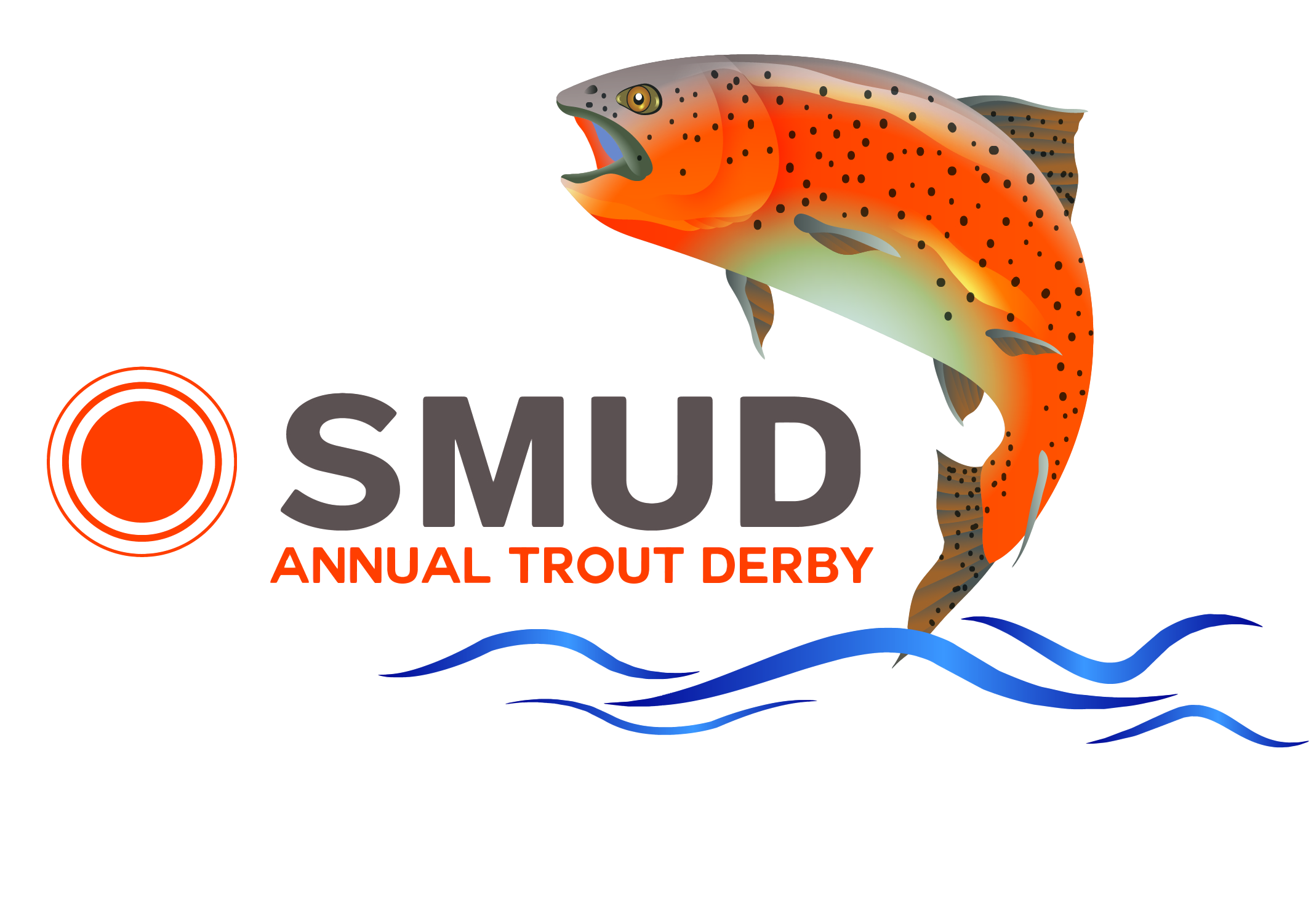 Thousands of pounds of trout are up for grabs at the Sacramento Municipal Utility District's (SMUD) 26th annual trout derby at Rancho Seco Recreational Area hosted by Angler's Press Outdoors, where the heaviest trout will win cash and prizes, and take home a 12-foot aluminum boat package grand prize - EACH DAY!
SMUD Trout Derby Results! (1,000 participants)
Last Saturday's 25th Annual SMUD Trout derby was AGAIN an event to be remembered as just shy of 1000 participants took advantage of a break in the weather, to "throw down" on some of the QUALITY Mt. Lassen rainbow trout the lake is producing at this time. A record 71 people brought fish to the scales that topped the 3 pound-PLUS mark, which for most trout anglers, is a phenominal feat.
Chris Martinez took 1st place honors in the adult division on day one with a 7.93 giant trout, and received a new boat, motor and trailer package for his efforts, and young 8-year old Gonzalo Roberts took 1st place honors on the youth division side with a 5.33 pound trout and received a new Kayak!
For day two of the event, Carlos Nazario took 1st place honor in the adult division on the strength of a 6.36 pound trout and Kegan Vasconcellos won the youth division with a giant 5.73 pound rainbow. They received a boat, motor and trailer package, and a kayak respectively.
On behalf of the SMUD and Angler's Press Outdoors organizations, a big THANK YOU to everyone that participated, and we look forward to seeing - and serving you all at another great event in 2019!
Angler's Press Outdoors
DAY 1 - RESULTS
Adult Division
| | | | |
| --- | --- | --- | --- |
| | First | Last | Weight |
| 1 | Chris | Martinez | 7.93 |
| 2 | James | Davi | 7.68 |
| 3 | Kurt | Rohrbach | 7.21 |
| 4 | Tau | Hang | 6.74 |
| 5 | Tim | Meeks | 6.47 |
| 6 | Tony | Phanthauong | 6.4 |
| 7 | Kevin | Coughlin | 6.2 |
| 8 | Blewett | Pat | 6.17 |
| 9 | Tang | Thao | 5.93 |
| 10 | John | Moua | 5.92 |
| 11 | Jose | Rojas | 5.63 |
| 12 | Josh | Lor | 5.61 |
| 13 | Phil | Fisher | 5.48 |
| 14 | Tim | Meranda | 5.34 |
| 15 | Paul | Moua | 5.23 |
| 16 | Gary | Arula | 5.2 |
| 17 | Phoun | Tath | 5.16 |
| 17 | Reggie | Galanto | 5.07 |
| 19 | Andy | Vang | 5.03 |
| 20 | Zach | Meeks | 4.92 |
| 21 | Shawn | Burrell | 4.88 |
| 22 | Henry | Robinson | 4.83 |
| 23 | Oscar | Crosson | 4.8 |
| 24 | Kevin | Grandison | 4.78 |
| 25 | Joey | Saeliou | 4.77 |
| 26 | Rodger | Lee | 4.64 |
| 27 | Jessy | Cristo | 4.59 |
| 28 | Joe | Surls | 4.58 |
| 29 | Paul | Moretto | 4.54 |
| 30 | Hani | Shahviari | 4.37 |
| 31 | Jared | Ross | 4.3 |
| 32 | Steven | Griffith | 4.27 |
| 33 | Miguel | Fuentes | 4.25 |
| 34 | Mary | Valdedrrana | 4.22 |
| 35 | Pay | Xell | 4.22 |
| 36 | Fong | Lee | 4.03 |
| 37 | Nathan | Vang | 4.03 |
| 38 | Brandon | Maural | 3.92 |
| 39 | Micheal | Hang | 3.75 |
| 40 | Pao | Hang | 3.65 |
| 41 | Rebecca | Roberts | 3.24 |
| 42 | Xang | Thao | 3.23 |
| 43 | Jared | LeMert | 3.15 |
| 44 | Tou | Thao | 3.1 |
| 45 | Derin | Corcoran | 3.02 |
| 46 | Eric | Herzer | 2.8 |
| 47 | Federick | Sortor | 1.7 |
| 48 | Gary | Ledbetter | 1.42 |
| | | | |
| | YOUTH | | |
| | | | |
| | First | Last | Weight |
| 1 | Mick | Fritzsche | 5.13 |
| 2 | Miles | Tanzi | 5.02 |
| 3 | Steven | Holt | 4.8 |
| 4 | Pauel | Sokyrko | 4.72 |
| 5 | Payton | Brurdk | 4.47 |
| 6 | Anthony | Castillo | 4.28 |
| 7 | Justin | Lee | 3.9 |
| 8 | Cameron | Ringler | 2.87 |
| 9 | Alex | Chavez | 2.34 |
| | | | |
| | KIDS | | |
| | | | |
| | First | Last | Weight |
| 1 | Gonzalo | Roberts | 5.33 |
| 2 | Ethan | Kurtis | 3.54 |
| 3 | Isaic | Ferkin | 1.74 |
DAY 2 - RESULTS
Adult Division
| | | | |
| --- | --- | --- | --- |
| | First | Last | Weight |
| 1 | Carlos | Nazario | 6.36 |
| 2 | Mildrid | Jacks | 5.83 |
| 3 | Kurt | Rohrbach | 5.8 |
| 4 | Todd | Claerbout | 5.53 |
| 5 | Dornback | Eric | 4.92 |
| 6 | Ericka | Harden | 4.46 |
| 7 | George | Nakawatase | 4.42 |
| 8 | Frank | Witte | 4.35 |
| 9 | Miles | Wyzanowski | 3.85 |
| 10 | Mark | Fertada | 3.83 |
| 11 | Dyan | Yager | 3.76 |
| 12 | Gonzalo | Marzario | 3.6 |
| 13 | Kris | Schanz | 3.53 |
| 14 | Isiac | Malave | 3.37 |
| 15 | Luis | Cabrara | 2.87 |
| 16 | Jay | Huey | 2.66 |
| 17 | Alesia | Francisis | 2.58 |
| 18 | Jenaro | Guillen | 2.03 |
| 19 | Kevin | Coughlin | 1.46 |
| | | | |
| | YOUTH | | |
| | | | |
| | First | Last | Weight |
| 1 | Kegan | Vasconcellos | 5.73 |
| 2 | Cameron | Ringler | 3.45 |
| 3 | James | Hairman | 1.41 |
| | | | |
| | KIDS | | |
| | | | |
| | First | Last | Weight |
| 1 | Aiden | Wyzanowski | 3.25 |